COMMERCIAL SOLUTIONS
National Fiber and Copper has over 30 years of experience in providing optical fiber cabling and copper IT solutions to commercial markets. We take pride in delivering cost-effective solutions and providing the top brands in hardware for optimal performance.
Providing Cabling & IT to Commercial Clients Nationally
National Fiber and Copper is the leading structured cabling and IT solutions provider for the DC Metro area and nationally. With a team of expert technicians who maintain the top industry-standard certifications, NFC is able to provide IT solutions that keep your business running efficiently.
NFC offers a lifetime warranty on materials and hardware, with a 2 year warranty on workmanship. After installation of your new infrastructure, a certified technician will test, certify, and warranty the installation. Given that the infrastructure is not touched or tampered with, the materials will remain warrantied.
Industry Partnerships
Through certification with the Women's Business Enterprise National Council (WBENC) provides a contract vehicle for commercial industries.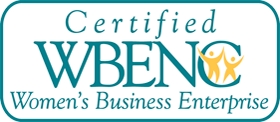 Partnering with suppliers  with the  industry's top hardware brands, National Fiber and Copper is able to offer consumers exceptional installation and customer service as well as top of the line brands that offer ultimate performance, speed, and security. NFC partners with names such as Cisco, Belden, Leviton, and more!
If your organization is in need of structured cabling or IT solutions tailored to your business' needs, contact National Fiber and Copper today to schedule an on-site survey. Give us a call at (202) 729-6339 or click here to contact us online!